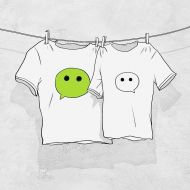 China's global status is legendary in the e-commerce sector. In the past few years, the Chinese consumer market has risen at an exponential pace. In fact, it is believed to surpass that of the United States, its closest competitor, by 2022. An app that dominates all of China's e-commerce apps is WeChat. The app offers some outstanding features, giving it the well-deserved title of China's Super App.
Before we offer any insight on WeChat's conference calls, let us understand what is WeChat and why does it enjoy a wide user base of 889 million monthly active users.
What is WeChat?
The Chinese government strictly censors online content from outside the country. Accessibility to other global social media platforms is either forbidden or heavily restricted. Consequently, China has developed the country's own domestic (and very successful) alternatives to global giants. WeChat is a notable example of China's homegrown super successful app. WeChat e-commerce has further fuelled the success of the platform.
WeChat offers a platform for brands to advertise, video chat, post messages and record short videos, among its many other uses.
First with a WeChat store, and then with WeChat pay, WeChat e-commerce has transformed the lives of Chinese consumers. No more a mere app, WeChat encapsulates the entire internet experience. Attending a good WeChat conference in London will enlighten you about the amazing commercial potential of WeChat e-commerce and what makes it a prime target for online business.
WeChat also offers its very own online marketplace known as the WeChat Shop.
WeChat Shop is a favourite of international businesses. With the marketplace-in-a social-app setting, WeChat has successfully created an accessible digital environment where sellers and consumers can easily interact with one another. The platform is designed in such a tech-savvy way that it offers more creative freedom to storefronts than any other online social media marketing platform.
The platform makes connecting with the target audience really easy. Consumers can like and share advertising content with their peers. When paired with professional digital marketing strategies, such as search engine optimization and pay-per-click advertising, the WeChat Shop offers endless opportunities for sellers. A WeChat conference in London is your one-stop source to know it all.
Now, here come some hidden insights of WeChat conference calls.
It is designed for the group effect
If you notice, an individual user's behaviour can be quite distinct from how they behave when in a group. WeChat closely observed how users behaved among groups of friends and strangers in everyday life to identify this group effect. WeChat did not use traditional methods of user research, such as surveys, interviews or following competition. Instead, they paid attention to how a feature is adopted by a group of users versus. an individual user.
WeChat took cues from their popular features 'Shake', which had people shaking their phones to find a random person to chat with, and 'Message in a Bottle,' which allowed users to exchange random messages by throwing a virtual bottle in the sea and when a user picked it up, they were connected. WeChat introduced video conferencing whereby users can add up to 9 people on a video call.
This move strongly resonates with their motto to succeed the group effect.
Adding to the strong community-driven group effect, the video calling update also brought a new feature to the WeChat in-app fitness tracker. The update allowed users to create their own fitness friends list and see how they matched up with their friends following their fitness trends.
With the WeChat video conference update, the platform succeeded in locking its users into the app for a longer time. This then translated to users using up more of the other features and services available on the WeChat app.
You know where to know more about some of the other hidden insights of WeChat conference calls. Yes, at a WeChat conference in London.